Gorilla Trekking in Bwindi Impenetrable National Park Uganda
A Guide to Gorilla Trekking in Bwindi Impenetrable Forest National Park Uganda, and Travel information on Uganda Gorilla Trekking Permits.
Gorilla Trekking Safari to Bwindi Impenetrable Forest National Park (Guide)
The Impenetrable Forest in Bwindi is a typical rainforest with mountainous vegetation with very tall different tree species. If you to get the best of your gorilla safari in Bwindi, it is necessary for you to collect all information about what exactly happens there, where to stay while on your safari, How to get there, and what is required on the safari.
The good news is that Kabira Uganda Safaris is here with all the necessary information for you to make your Safari more fantastic. We provide updates to rely on when planning to book your Gorilla trekking Safari to Bwindi impenetrable National Park.
The Impenetrable forest National Park of Bwindi is located in the south–western part of Uganda, stretching in districts such as Kanungu, Kabale, and Kisoro. Bwindi Impenetrable Forest National Park is one of the four National Parks with endangered mountain gorillas, with it hosting almost half of the remaining mountain gorilla population in the world.
There are 19 gorilla families in Bwindi that are ready for tracking with 152 visitors allowed per day, and the tracking trailheads to Buhoma, Ruhija, Rushaga, and Nkuringo. The National Park avails 152 Gorilla permits each day, for a better experience, Kabira Uganda safaris advises you to book your gorilla permit earlier enough to avoid inconveniences.
Why Visit Bwindi Impenetrable Forest National Park
Bwindi Impenetrable Forest National Park is a must include in your bucket list when planning your safari to Africa. The Bwindi National Park has a variety to offer to its visitors with lots to see and several activities to do within the park.
The Bwindi National Park is famous for Gorilla trekking and is perhaps the top highlight of the activities to do while here.  The majestic primates in Bwindi are truly thrilling to watch in their natural habitats with their young ones. The other activities include the Batwa experience, visit the community hospital and nature walks in Bwindi forest as well as walking safari from Buhoma to Nkuringo through the forest.
How to Book Bwindi Gorilla Permit
Booking a gorilla safari to Bwindi impenetrable National Park means you will need Bwindi- gorilla permits that are booked or sold at the Uganda wildlife Authority. For any visitor to be able to access the Bwindi Gorillas require a gorilla permit or pass and you will be glad to dwell in the impenetrable forest and watch the large primates, Mountain Gorillas for a full hour. We hereby help you check the availability of Bwindi gorilla permits and can also reserve them for you if interested.
Bwindi Gorilla trekking Permits cost USD 700 FOR NON FOREIGN RESIDENTS and UGX250,000 for East Africa citizens of Uganda, Rwanda, Kenya, Tanzania, Burundi, and South Sudan. The Gorilla trekking in Bwindi Impenetrable National Park can only be done after booking Bwindi Gorilla Permits that are paid for at the Uganda wildlife Authority. Kabira Uganda safaris offer an all-around gorilla safari package for you with all gorilla permits inclusive.
Batwa Cultural Experience
While in Bwindi Impenetrable forest National Park, to visit the Batwa is a shouldn't miss for any traveler. The National Park was formally inhabited by the Pygmies that are also known as the Batwa. The Batwa were however moved out of Bwindi Forest when it was declared a National Park. The settled just near the park and adopted and live a normal life here.
The Batwa cultural experience journey is a day activity done by the Pygmies who still reside in and near the park. The experience is absolutely fantastic!! The locals will take you to where they used to live, how they used to utilize the park resources for survival and will end will entertaining cultural dance.
Where to stay while on Gorilla Trekking in Bwindi?
Bwindi Impenetrable Forest National Park is home to several accommodations with the best structures and perhaps betters services for travelers. If you're planning your safari to Bwindi impenetrable Forest National Park, there are lodges such as Gorilla Forest Camp, Buhoma Lodge, Clouds Mountain Gorilla Lodge, Rushaga Gorilla Camp and several others.
How do I get to Bwindi Impenetrable National Park?
Bwindi Impenetrable National Park is accessible on land and can be reached from Queen Elizabeth National Park to the north (2-3 hours), from Kabale to the south (1-2 hours), or from Kampala via Mbarara (6-8 hours). The roads meet at Butogota, 17km from the Buhoma entrance gate.
Safari Route to Bwindi Forest
Best Gorilla Trekking Safari Packages to Bwindi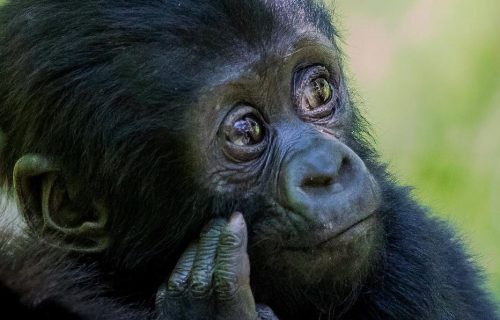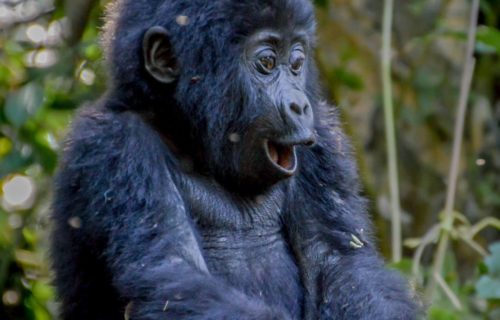 3 Days Gorilla Trekking Uganda Safari is a 3 Days Gorilla Trekking Uganda in Bwindi Impenetrable Park. 3 Days Uganda Gorilla Safari.
Reviews on TripAdvisor Clients who Enjoyed Gorilla Trekking in Bwindi Uganda
shaday422 Phalaborwa, South Africa

"breathtaking"

What an incredible experience. The hike up wasn't too bad for us but there are locals that are trained to help you through some of the steeper sections. It was a little slippery due to heavy rainfall the night before but nothing to complain about.
Being up that close and personal with these incredible animals was a once in a lifetime experience. We would highly recommend it to anyone. The guides were knowledgeable and very respectful of nature and the gorillas. Number one item off the bucket list. We would love to visit again in the future.
"Unforgettable experience"

Wow! What a day! We got lucky and were with the gorillas after 1.5hours. It is a very steep descent, but as soon you look into the eyes of one of these giants you know it was all worth it – the money and the sweat! Beautiful experience which leaves you breathless. Very steep rise, too. Just breathe and think of what you just experienced and you get through it.