African Horse Safaris: Discover Africa on Horseback
African Horseback safaris are the greatest way to take in the savannah and get up close to the big animals if you want a more personal and immersive safari experience than what a 4×4 car can provide. Check out our selection of equestrian safaris in the African bush, spanning from Botswana to South Africa and beyond.
A horseback safari in Africa is more than just a ride through the bush; it's an immersive wildlife experience that can be enjoyed by riders of all skill levels, from kids to grandparents. While riding through the African environment, you can feel the peaceful yet unyielding world of the continent's fauna.
African Horse Safari Destinations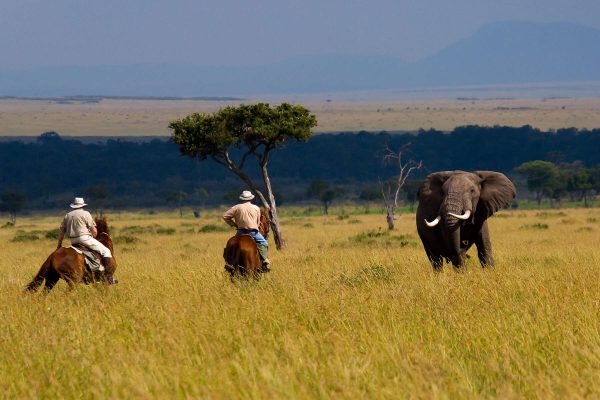 Horseback safaris in Kenya
Kenya now offers one of the world's most thrilling horseback riding vacations. Offering unparalleled opportunities to see wildlife up close, including horseback riding alongside some of Africa's largest herds of wildebeest and zebra during migration.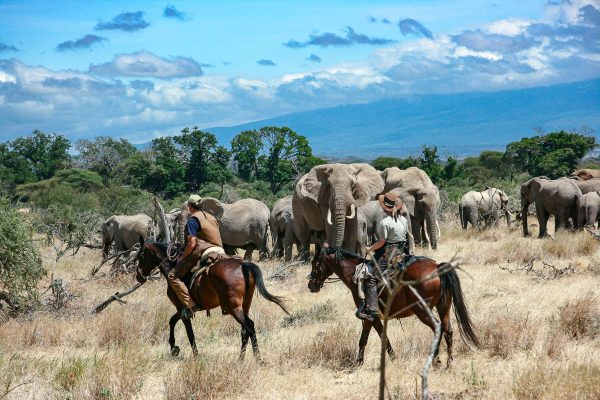 Horseback safaris in Tanzania
Tanzania does not have the same level of popularity for horseback riding as its neighbor Kenya. But it's just as fascinating and provides similar feelings. You can see a wide variety of animals when out on a horseback ride around Tanzania.
Horseback safaris in Uganda
Uganda is rich in biodiversity thanks to the presence of the continent's largest lake, the world's longest river, and the continent's tallest mountain range. Explore the local culture of Uganda as you ride through the country's quaint.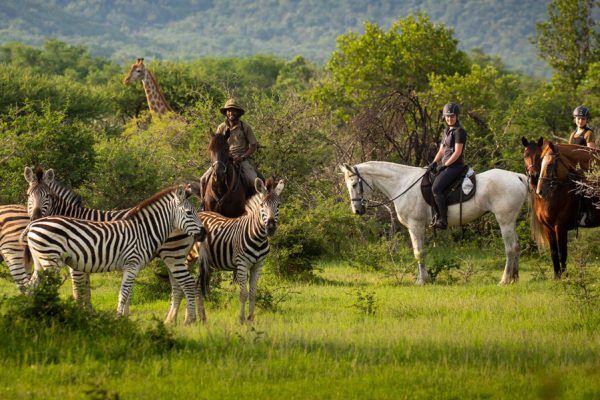 Horseback safaris in South Africa
When visiting South Africa, one of the most enjoyable activities is a horseback safari. The wide variety of sceneries guarantees that you won't get bored. Furthermore, touring South Africa with the wind in your hair and no obstacles in your way is a lot more pleasurable experience. Our favorite spots for a horseback riding safari are listed below.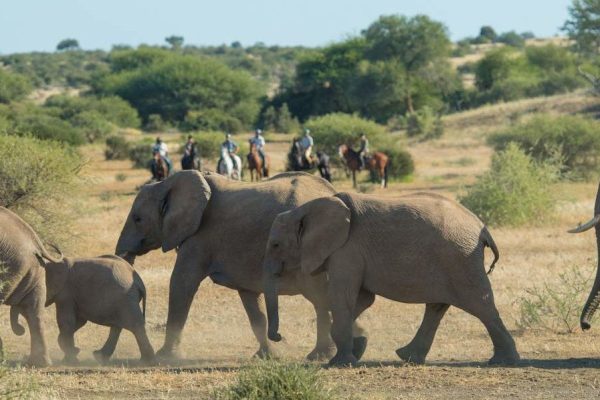 Horseback safaris in Botswana
Botswana's immense wilderness is best explored on horseback, allowing visitors to calmly observe their surroundings. In addition, you'll have a new vantage point from which to appreciate the abundant wildlife that calls Botswana home.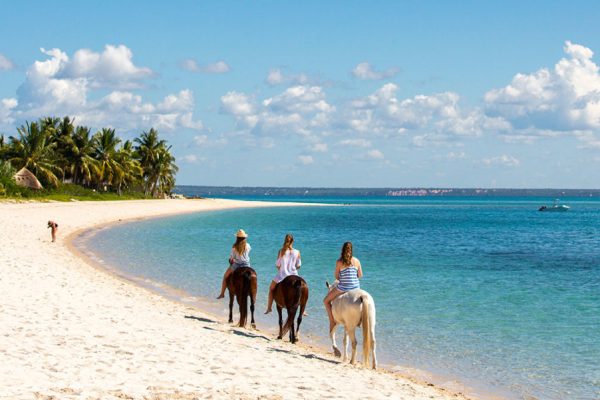 Horseback safaris in Zimbabwe
Zimbabwe has breathtaking scenery, boundless horizons, and a cultural tapestry as diverse as its regions. And a horseback safari in Zimbabwe is the way to go if you want a more in-depth encounter with the local wildlife.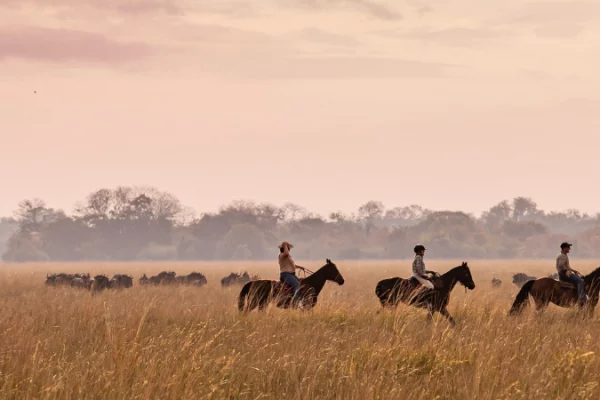 Horseback safaris in Zambia
The name "Birthplace of the Walking Safari" may be synonymous with Zambia. But don't pass up the chance to go on a horseback safari in Zambia!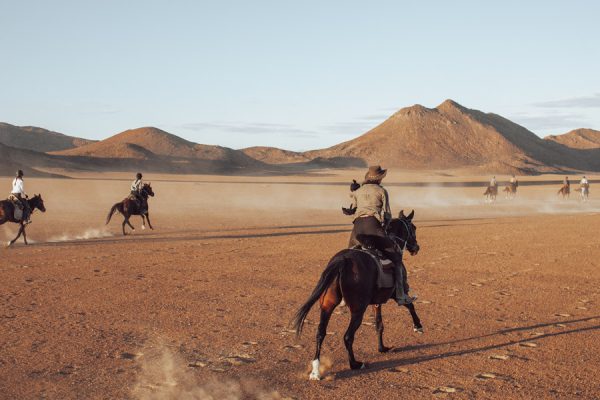 Horseback safaris in Namibia
Nothing compares to the unforgiving landscapes of Namibia, which include seemingly endless desert, shimmering salt pans, and a shipwreck graveyard. And the best way to see it all is on a horseback safari through Namibia.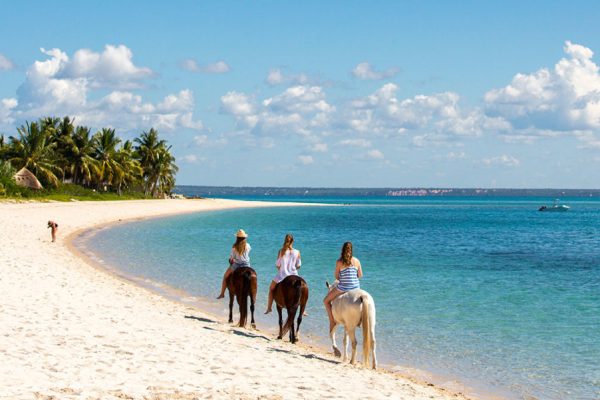 Horseback safaris in Mozambique
You need look no further than a horseback safari in Mozambique to fulfill your fantasies of galloping over white-sand beaches, swimming in azure seas, and enjoying the warm welcome of island life.
What are the benefits of an African horseback safari?
Many people's mental images of a safari in Africa include olive-green Land Rovers rumbling across swaying grasslands. Or possibly silent hot-air balloons soaring over the Serengeti's teeming herds. Contrast this with the reverberating sound of a stallion's cantering hooves on the glistening salt flats. Unlikely.
Still, Africa is one of the best places to go horseback riding because of its combination of excellent guides, picturesque wilderness lodges, and the possibility of seeing the Big Five while out on safari. A horseback safari in Africa is the perfect vacation for those who like to keep their travels on the exciting side.
It's easy to see how an African horse safari differs from a traditional safari. The familiar vibration of an engine and the snappy response to a foot on the gas pedal are no longer present. Instead, you can pretend to be a part of the forest's native flora and fauna by adopting a disguise. In addition to being a much "greener" way to go through the wilderness, this method also allows you to participate in the natural cycle of animals.
An African horseback safari is the best way to experience nature up close and personal while also getting a serious dose of adrenaline.
Book your African horseback safari now!
Why do you keep stalling? We'll bet you can almost smell the savannas and feel the breeze in your hair. Get in touch with our travel agents today to arrange your African horseback safari. You can trust that you're working with the best of the best when you book with the African Best Safari Company. Saddle up, we've got some Africa to see.

Horse Riding Safari (This is the BEST THING to do in KENYA)