A Detailed Horseback Safari in Tanzania Guide (Updated 2024)
Tanzania does not have the same level of popularity for horseback riding as its neighbor Kenya. But it's just as fascinating and provides similar feelings. You can see a wide variety of animals when out on a horseback ride around Tanzania.
Although a horseback safari in Tanzania might be out of reach for some travelers, the mobile-safari setup is unlike anything you'll find at a lodge.
The 'four giants' (Longgido, Namanga, Mt. Meru, and Kilimanjaro) are passed on the rides. You can travel across vast stretches of mountainous woods and open savanna plains, where you're sure to see all sorts of interesting animals. Over 1,280 square kilometers of land make up the Enduimet Wildlife Management Area (EWMA). Located in the Longido District and close to the border between Tanzania and Kenya, this region is crucial as a transnational migration corridor and dispersal place for many species of flora and fauna, including the African Elephant.

SURPRISE HORSE BACK SAFARI IN AFRICA
Horseback safari in Tanzania creates unbeatable memories that will last a lifetime.
Horseback riding in the African bush in Tanzania is the stuff of "Out of Africa" fantasies for many. Horseback riding here is sure to be a once-in-a-lifetime adventure, taking you through some of Africa's most recognizable landscapes against the stunning backdrop of snow-capped Mount Kilimanjaro. Join the zebra, giraffe, and wildebeest as they gallop across the plains, but keep a look out for the large cats for which this region is known.
Tanzania welcomes families, couples, and even intrepid lone travelers in pursuit of a real African riding adventure. The broad plains are a paradise for seasoned riders, with opportunities for thrilling rides, breathtaking views, and close encounters with some of the world's most fascinating animals. Those who are traveling with non-riding companions can still enjoy an unforgettable safari experience by traveling in a group and sharing meals and stories around the campfire.
Qualified and properly trained guides lead each expedition, which is both educational and exciting. The trails remain uncharted, leading riders deep into the wilderness to see Africa's natural beauties. Remember to take just your hoofprints and your heart when you leave wild Africa.
Our Bes Horseback safaris in Tanzania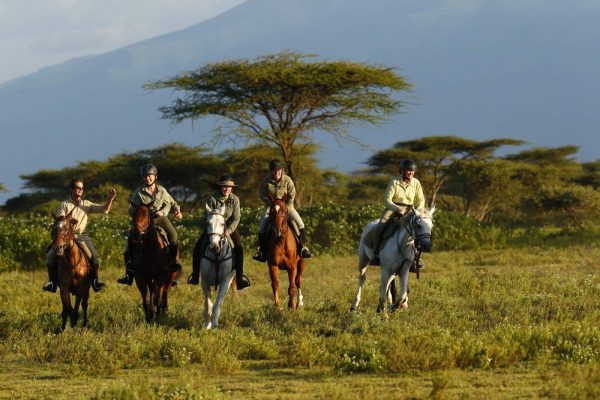 The first night of your horseback riding journey in Africa will be spent at a permanent camp outside Arusha, a short drive from Mount Kilimanjaro International Airport. After that, you'll take a picturesque flight over some of the best wildlife areas in Tanzania and arrive in the Serengeti region, where the real adventure begins.