White Water Rafting in Jinja source of the Nile River Uganda
White Water Rafting in Jinja Uganda; The Nile River at Jinja is home to the world's finest grade 5 white water rafting as well as other adventure activities. The Nile river is the world's longest river and Jinja in Eastern Uganda is home to the source of the mighty Nile River.
For any adventure traveler on Uganda safaris, white water rafting at the source of the Nile River in Jinja is the best adventure sport. The rafts on the Nile River explodes its volumes of white water through huge walls and drift through flowing with rapids northwards. 
White water rafting is a challenge of a kind that will keep your adrenaline high and your hurt pumping as you rafting on the waves and of course expected anything including getting into the water. 
Whether for first time adventurers or experienced travelers on safaris in uganda, this is a great activity to involve in your Uganda safari itinerary. There different levels of white water rafting in Jinja depending on how frightened you can get, here is a highlight of the latest;
Contents
Photos of Water Rafting in Jinja Uganda
Want to adventure the Nile River with the family during a tour in Uganda? The Grade 2 family float trip is the most comfortable trip. This trip requires a minimum age of 6 years and doesn't take you to the extreme rapids of the Nile.
Grade 3 Full Day Raft & Riverboard:
Families that would love to have an experience of Grade 5 rafting without the rapids should choose Grade 3 rafting. This is an ideal one day adventure trip for children as young as 8 years. You spend about 4-5hours on the Nile.
Tubing the Nile:
One of the least undertaken activities on the Nile River is tubing the Nile. This is very comfortable for those who would love to just relax on the water. You drift on a tube for 2.5-3 hours while sunbathing.
What are the Requirements for White Water Rafting in Jinja?
Minimum weight is 30kg
All children below 18 years of age are applicable to guardian conditions. Under 16 years children should be accompanied by an adult.
No prior rafting experience is necessary however clients should be water confident and reasonably fit
Be sober with good health. Inform incase of any medical conditions.
What to bring for White water Rafting Jinja
As you prepare to have a white water rafting experience on your Uganda tour, remember to pack the following things;
Pack shorts and a t-shirt to wear during the raft. Long sleeves can be considered if you get sunburns easily.
Carry sunscreen since it could be extremely hot during the raft.
Pack along clothes to wear after the rafting experience since the others will be wet.
Any personal medication
No safari to Uganda can be satisfying for adventure lovers without a white water rafting experience on the Nile River. You can contact Kabira Uganda Safaris for all of your white water rafting trips either on a day trip or on a long Uganda wildlife safari.
Sample Water Rafting tour Packages
9 Days Uganda Wildlife Safari & White Water Rafting tour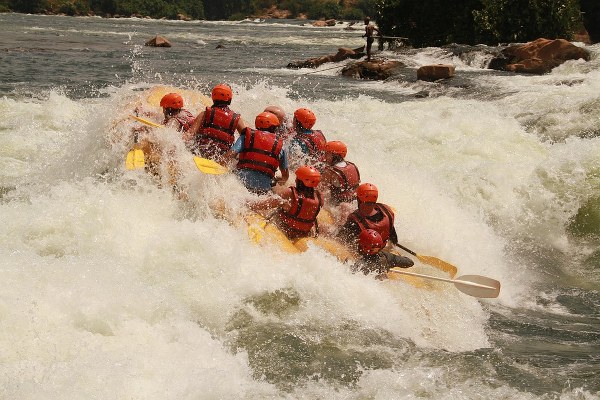 9 Days Uganda Wildlife Safari & White Water Rafting tour
is a wildlife safari in Uganda with a white water rafting experience on the Nile River in Jinja. The trip comprises of a visit to Murchison Falls National Park, Kidepo Valley National Park, Sipi Falls and Jinja at the source of the Nile for rafting.
Learn More