Travel Guide: Nyungwe Forest National Park Rwanda
Informative Free Guide: Nyungwe Forest National Park lies in southwest Rwanda, partly abutting the Burundi border. Nyungwe National Park Canopy Walk, Accommodation & Entrance fee.
Our Informative guide on Nyungwe National Park Rwanda is all you need to know about this beautiful park. here we give you the latest information on the attractions, activities, best time, location and accommodation facilities around the park.
The Nyungwe Forest (/nj–ʌŋ–ɡwɛ/) is located in southwestern Rwanda, on the border with Burundi, where it is contiguous with the Kibira National Park to the south, and Lake Kivu and the Democratic Republic of the Congo to the west.
The Nyungwe rainforest is probably the best preserved montane rainforest in Central Africa. It is located in the watershed between the basin of the river Congo to the west and the basin of the river Nile to the east. From the east side of the Nyungwe forest comes also one of the branches of the Nile sources.
Nyungwe Forest National Park was established in 2004 and covers an area of approximately 970 km2 of rainforest, bamboo, grassland, swamps, and bogs. The nearest town is Cyangugu, 54 km to the west. Mount Bigugu is located within the park borders.
[More Info]Source: From Wikipedia, the free encyclopedia
Best Rwanda Safari Holidays Packages in Nyungwe National Park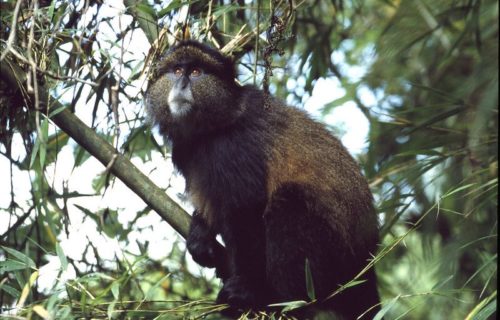 5 Days Rwanda Safari
5 Days Rwanda safari Primate tracking and Gorilla trekking tour is a trip to the best primate habitats of Rwanda. This 5 days safari in Rwanda takes you to Volcanoes National Park for Gorilla trekking and to Nyungwe National Park for chimpanzee tracking.