Golden Monkey Trekking Uganda – Mgahinga Gorilla National Park
Golden Monkey Trekking Uganda is a top primate trekking safari in Uganda for the rare Golden monkeys of Mgahinga Gorilla National Park. Golden Monkey Trekking Uganda – Golden monkeys in Uganda (Cercopithecus Kandti) is a primate species of the Old World Monkey restricted to the Virunga Volcanic Mountains.
Golden monkey tracking (trekking) in Uganda is one of the popular primate tracking Safaris in Uganda searching for the rare golden monkeys restricted to the Virunga Volcanic Mountains.
The golden monkey (Cercopithecus Kandti) is a primate species of the Old World Monkey listed as endangered on the IUCN Red List. 
Formerly the Golden monkeys were thought to be a subspecies of the blue monkey (Cercopithecus mitis) however the golden monkey has a golden patch on the upper flanks and back. Golden monkeys live within the bamboo on the virunga mountains.
What we'll cover in this article
Updated On: Thursday, July 1, 2021
Speak to Someone Who's been There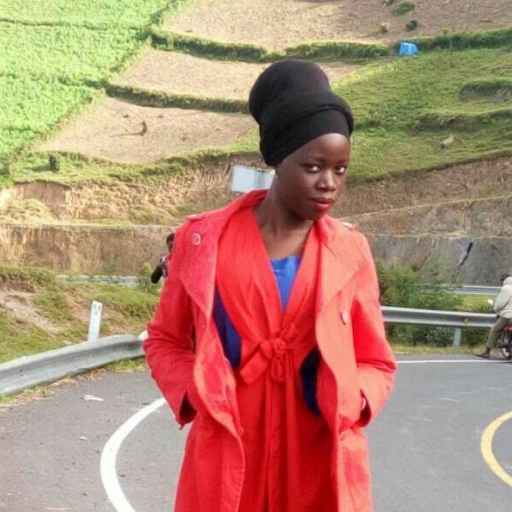 Amagoro Sharon
Itinerary Planner/Travel Writer
---
Start Planning your tailor-made trip by calling one of our Specialists on
(+256) 779-820-753
[WhatsApp]
What is Golden Monkey Trekking in Uganda?
Golden Monkey Trekking is one of the activities on Uganda Safaris that involves hitting the trails of Mgahinga Gorilla National Park to track the golden monkeys within their natural habitat.
Golden monkey Trekking is less exhausting as compared to Gorilla trekking since Golden monkeys do not move and nest in different locations each day.
Golden monkeys almost always stay in the same areas each day and therefore it is easy to track and find them.
The trek sets off in the morning at about 8:00 am along with a ranger guide taking about 4 hours in the forest along the Gahinga trail.
Reaching where the Golden Monkeys are is an amazing moment as you are surprised by the fast leaping primates on the bamboo steps.
They will be jumping all around you and creating beautiful moments. Keep your camera close to capture these fast poses.
Remember to wear long sleeved shirts and trousers and carry along a backpack with drinking during the trek. Hiking shoes are recommendable and they should really be comfortable on the ankles for the hike.
Where in Uganda are Golden monkeys found?
In Uganda, golden monkeys are only in Mgahinga Gorilla National Park where they co-exist with the silverback gorillas and therefore the slogan "where gold meets silver". 
Golden monkeys live in groups of up to 30 individuals and about 3000 to 4000 of them are existent. Since they are only found in the virunga mountains they are classified as endangered. 
From Kampala-Uganda's capital, Mgahinga Gorilla National Park is reached after 8-9 hours drive by road and can also be reached by Air from Entebbe International Airport. Its closer reaching the park from Kigali-Rwanda since it's just a 4 hours drive.
What is the best time for Golden Monkey Tracking in Uganda?
June-August as well as December – February are make the dry season months in south western Uganda. This is therefore the best time for golden monkey trekking Tours in Uganda since the forest is less wet and therefore easy to hike.
However, depending on your planned travel time, you can trek Golden Monkeys in Uganda at any time of the year.
Mgahinga Gorilla National Park is open for all kinds of Uganda Safari Activities and can be visited. The experience depends mostly on the liveliness of the primates each day.
Golden Monkey Experiential
Apart from the Golden Monkey Tracking Experience in Uganda, tourists can also spend more time on a golden monkey experiential.
The Golden Monkey Experiential Tourism allows visitors to the park to have an insight of what it takes to research, conserve and protect an endangered specie in the 21st century.
Spending more time with the research time offers a better understanding of how conservation is important and learn more about the primate life. In case you would love to spend more time in the jungle, then this is the best option.
Uganda Golden Monkey Tracking Tour Packages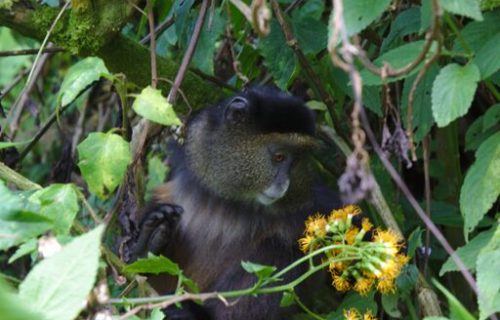 4 Days Mgahinga Gorilla Safari & Golden Monkey Trekking Tour Uganda is the best tracking short tour to Uganda's perfect gem-Mgahinga Gorilla National Park.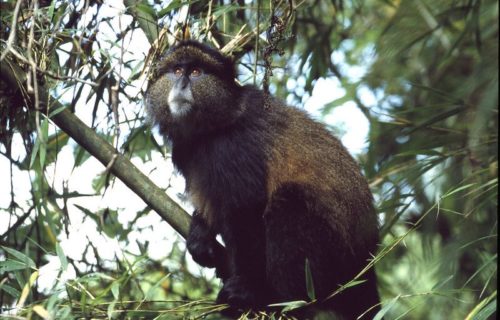 5 Days Mgahinga Gorillas, Golden Monkey Trekking & Lake Bunyonyi Tour is an amazing activity filled safari to Mgahinga Gorilla National Park with an adventure visit to Lake Bunyonyi.